 
Dead Age 2 + 1 WSZYSTKIE DLC STEAM PC DOSTĘP DO KONTA WSPÓŁDZIELONEGO - OFFLINE
DOSTĘP DO KONTA STEAM - NA KONCIE ZNAJDUJE SIĘ GRA:
+ WSZYSTKIE DLC
+ WSZYSTKIE DLC
Kontakt : pytania i problemy
W przypadku problemów z kontem, czy też pytań dotyczących jego obsługi zapraszamy do kontaktu na nasz adres e-mail profigamesx@gmail.com. Odpowiadamy w godzinach 9 -22.
O TEJ GRZE

Dead Age 2 is a unique combination of survival, management, Rogue-Like events, turn-based combat, classic role-playing game with tons of quests and a story in which your decisions directly affect plot progression!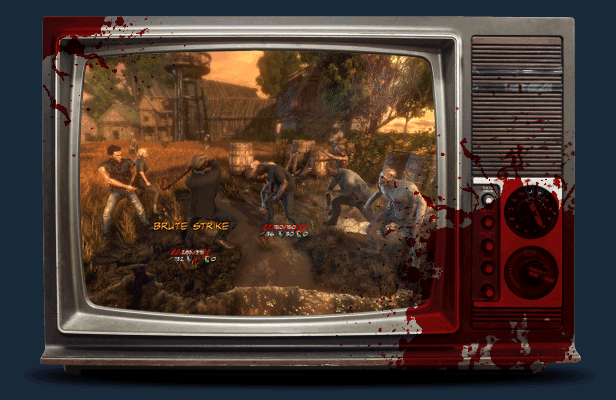 Features
More complex story with no knowledge of the previous storyline necessary: If you haven't played Dead Age you will still be able to follow the diverse story of Dead Age 2 without difficulty.
Improved combat system (Final Fantasy X meets Darkest Dungeon): with fast-paced yet strategic battles and use of up to 24 skills
Faction Reputation System: Increase your standing with the three major factions to reap rewards and improve trade
3D Base-Management: Assign tasks to survivors, craft items and expand you camp's capabilities for improved crafting options
Compact Open World: Free exploration of the world map with 80 detailed locations to search for valuable resources
Decisions with Consequences: Your decisions directly affect the story in a much more drastic way. Dead Age 2 has six unique possible endings
Rogue-Like Elements: random 3D events with permadeath! If you die, you may purchase upgrades unlocked in previous runs for your next playthrough. Choose from 3 difficulty levels


10 years after the initial outbreak of the zombie apocalypse, the members of Jack's camp fled to Freedom City, where a cure for the zombie plague was developed. But the news brings more suffering than relief. New factions have sprung up in the region, in constant battle for dominance. The merciless Military, the shady Smugglers and the Independents made up primarily of civilians.

When an Independents' refugee camp was overrun by an undead horde, the few survivors struggle for food and valuable resources in an unforgiving world, always looking over their shoulder for gangs of looters and the flesh-eating dead.




While the big advantage of Dead Age's turn-based combat system versus tactics-based games is faster progression, the mechanics have evolved.

A character can now bring up to 24 skills to the battle. Change up your tactics mid-fight to instantly gain the advantage over zombies and hostile survivors. Place front-row combatants to protect ranged-combat allies from attackers, and deploy turrets, hunting dogs and tigers, as well as an array of new weapons.





Visit the outposts of other factions to trade and take on missions and improve your standing with them. Improving relations with the region's greater factions unlocks better equipment and plot devices. A negative reputation can lead to confrontation or even a bounty.





Your 3D base is your central hub of operations. Here, you assign crafting or building jobs to survivors, build and upgrade stations to improve defense and quality of life and unlock improved craftable items and higher yield of resources.

The new open game-world offers free exploration of the world map with over 80 detailed graphically depicted locations. Beside nature scenes, Dead Age 2 features new indoor locations like hospitals, bunkers, schools, malls and army supply stores.





Decisions you make while playing can have significant effects on the progression of the story involving the three survivor factions, romanceable characters, and bring you closer to one of the game's six endings!





Like its predecessor, Dead Age 2 features random events on the map resulting in a variety of consequences, but this time those events are depicted fully in 3D. Survival RPGs are especially dangerous. 3 difficulty levels and permadeath may result at any time in losing an ally for good. If your main character falls victim to the apocalypse you are forced to begin a new playthrough, for which you can purchase upgrades and advantages unlocked in previous runs.

Gain enough standing with the factions and you may purchase things like upgraded faction equipment for newly-created characters, as well as unlock unique endings. This gives Dead Age 2 high replayability!
Co otrzymujesz po zakupie?
 Login i Hasło do konta STEAM, na którym znajdziesz interesujący Ciebie tytuł,
Pełne wsparcie, pomoc dla otrzymanego konta, dostępu w razie jakichkolwiek problemów,
Dożywotni i nieograniczony czasowo dostęp do konta.
Zasady użytkowania konta współdzielonego
Na kontach nie można zmienić danych (e-mail/ hasło/login - zabezpieczone są blokadę uniemożliwiającą tą czynność). Tryb konta STEAM : Offline.
Konta są współdzielone to znaczy, że korzystają z nich inni Kupujący i pobierają ich zawartość, co w niczym nie przeszkadza podczas rozgrywki.
Wymagania minimalne
Wszelkie wymagania sprzętowe interesujących tytułów możecie Państwo sprawdzić na oficjalnej stronie platformy, na której gra się znajduje.
Co otrzymujesz, wysyłka :
Otrzymasz dostęp do konta platformy cyfrowej w postaci loginu i hasła wraz z instrukcją pdf. Wysyłka następuje natychmiastowo drogą mailową, bądź plik możesz pobrać ze swojego profilu założonego na naszej stronie z zakładki zamówienia. 
Kontakt - pytania i problemy
W przypadku problemów z kontem, czy też pytań dotyczących jego obsługi zapraszamy do kontaktu na nasz adres e-mail profigamesx@gmail.com. Odpowiadamy w godzinach 9 - 22.
No customer reviews for the moment.